Slowing down with... Stevie J Jones / 1x1
A short interview with artist Stevie J Jones / @1x1_NFT


So we're back with an artist interview, this time with the first person I saw talking about audio NFTs in my Twitter feed. His music recordings as audio NFTs are, to me, an exciting format for creators to get much closer to fans. As an aficionado musician myself and someone who can lose himself inside a piece of music for hours, it's a great pleasure to see innovation happening in the music space and I'm thrilled to have one of the main actors moving things forward. You can find him on Twitter, Hic Et Nunc for his excellent pieces, Spotify and in some cool records by Brian Eno, AIR and other bands, probably in your music collection already, etc. Without further ado, let's jump in.
Q: What is your background?
A: I am Stevie J Jones, a multi-instrumentalist, producer and unapologetic code junkie wrapped into one slightly curious package making NFTs under the alias 1x1. This name started as a way to separate me the musician from me the person doing the coding but eventually it just got too exhausting trying to keep the stories separate when they were one and the same.
Originally from a seaside town called Bangor in Northern Ireland, I started playing guitar seriously at the age of 14, and just wanted to be the next Steve Vai. I wanted to escape that little country and go on to do big things on big stages all over the world – probably pretty much the same dream as every young guitarist from a small town, I guess.
My teenage band Spontaneous Dog was pretty successful. We won a big UK competition called Panasonic Audio Rock School in 1991, leading to TV appearances, endless local newspaper articles and so on. It was so much fun, and was certainly the moment at which I knew that music was what I eventually wanted to do with my life.
I left Northern Ireland to go and study Japanese at Edinburgh university in the 1990s. My third year living in Japan as part of that course was hugely influential and I still have a huge passion for that wonderful country and its people – I want to go back and live there again once my kids have left home.
When I left university, in a twist of good fortune I got to co-produce a record for a singer- songwriter called Martyn Joseph whose powerful music had a profound effect on me back then.
One thing led to another and I ended up on a world tour as lead guitarist for Brendan Perry, one half of the massively successful band Dead Can Dance. It was an amazing experience to be on stage with that massive voice of his – I would get chills every night. Brendan actually ended up singing vocals for a track called Higher Deeper on my debut album Angels In Drag (Spotify link) and it's his beautiful daughter Emma on the cover.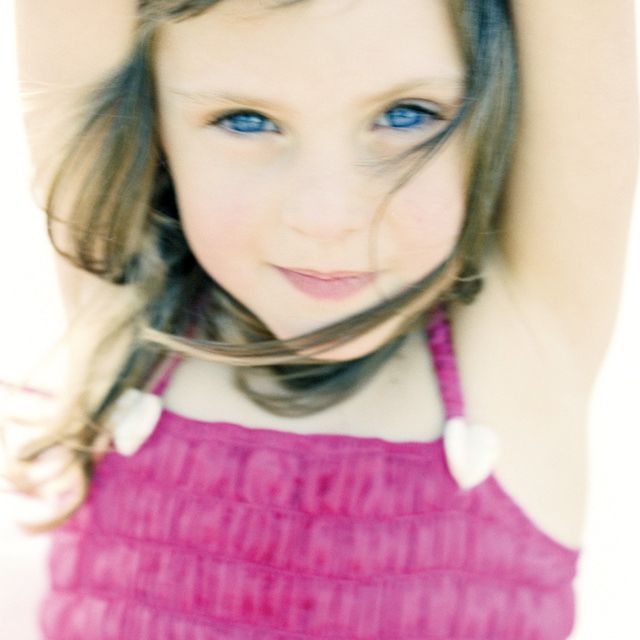 Since then, I've just been lucky enough to record and tour with a lot of great artists including Brian Eno, AIR, Imogen Heap, David Holmes, David Byrne, Bryan Ferry, Craig Armstrong, Florence + The Machine and Foy Vance. I've made a couple of solo records as Stevie J Jones - Angels in Drag as mentioned before, and Sayonara Deadweight (which was produced by the other half of the Fragments from The Cross duo, Jules Maxwell). I'm also currently in a band called The Veltrons. We met on the wonderful collaborative jamming app Endlesss but rather bizarrely we have never met in real life. Sure enough, we now want to build something pretty special as a kind of interactive space road-trip NFT for the new album which is finished and getting amazing reactions from those we've let hear it – we're so excited about sharing it.
Q: How did you get into art? Is it your main activity?
A: I started playing piano at the age of two, and creating BASIC code and graphics on my old BBC Microcomputer at the age of seven, so the beginnings of the creative world I live in now go right back to there, I suppose.
After moving to London in 2000, I got hugely inspired by the Flash work of Yugo Nakamura and started a parallel career as an ActionScript developer. I gradually moved into open web technologies, and today I split my time between music and code. I can't live without either of them. Music definitely dominated my life until about 2012 but since then it's been a pretty even split between the two.
I have been running a web development agency for many years alongside the music – mainly React, Laravel and WordPress plugin development. Sometimes the worlds cross over - I did get to make a Moon Safari 10-year Anniversary website for AIR while I was touring with them in 2007-08, and more recently built a little site for one of Imogen Heap's side projects – I was her guitarist for the Mycelia tour in 2019. Here's a video of me having my best shot at the "impossible solo" in Goodnight & Go at The Roundhouse, London.
Imogen has been a big inspiration to me in terms of music and blockchain tech. She's a wonder of humanity, simple as that.
Q: Which are your artistic influences?
A: I'm quite fluid with influences, a bit of a magpie, really. For example, recently I've been very inspired by the mathematical and pixel art I've been seeing on hic et nunc and that is feeding into the aesthetics of our next piece.
I listen to a lot of ambient music - particularly Hakobune, a Japanese ambient guitarist. I think there's something in the calmness and simplicity of his music which feeds into my coding style. My great friend Matthew Rudd is a big visual influence too. Matt did all the Channel 4 design work from 2005-2010 and invented the ITV colour-picking logo. He's got an amazing sixth sense for finding one idea and making a coherent body of work from it. Ever since I first worked with him I have wanted to simplify and refine every idea. I developed some software for him to make augmented photography works and we will be creating interactive versions of them to release as NFTs later this year.
My biggest influence of all is the guy with whom I've been making the Fragments from The Cross work, Jules Maxwell. He is from the same town in Northern Ireland as me – Bangor. He loomed large in my life then, being a few years older... his band was definitely the coolest in town. They were untouchable. It still amazes me that he and I managed to forge the lifelong friendship that we have. But we have woven each of ourselves into almost everything that the other has created over a 25 year period, and it feels genuinely special to be on the NFT trip with him of all people. He's a phenomenal musician and a beautiful human being.
Q: What has the art NFT movement meant to you? Has it changed your art practice? Does it enable you to do something that you couldn't do before?
A: You have no idea just how much it has brought together everything that I've been doing for the past twenty-odd years with no apparent rhyme nor reason.
I have been finding the music industry increasingly alien, and I could find no way to be heard above the noise. I had more or less given up on the idea of ever finding an audience or making any income from music at all. It seems that unless you engineer your music to fit the playlist era, you just don't stand a chance on Spotify... and even if you do get heard there, the payback is just so pathetic that it doesn't make any sense to commit the time and money you need to make a record.
For the most part, the presentation of music is just nowhere near as special as it once was, mostly being faceless, insubstantial audio files sitting in enormous services like Spotify only connecting with the user via a graphical play button. It's practical, sure, but I remember the day I came home from the record shop in Bangor with Metallica's Master of Puppets vinyl LP under my arm. The big artwork. The process of taking it out of the sleeve... dropping the needle. It was near-spiritual, a ritual, slow, precious. I wanted a way to present digital work like that, having done some things like that in the Flash days.
Suddenly the NFT movement has resolved all of this at once. We make the music. I can make it look and behave however I want, with absolutely no-one to say "no, you can't do that." It's tremendously empowering. And the community receiving the work has been the best part of all. I've enjoyed collecting the work of artists and learning about their worlds every bit as much as putting our own work out there.
Q: Would you like to highlight any of your works? Any story you'd like to tell around any piece?
A: I would choose the Fragments from The Cross series (Vol. 1 & 2). It's building into a five- volume collection of improvisations that Jules and I started in October, recording daily in our little workspace in south-east London, with no real reason or purpose. It just felt like we needed to do something small together each day. We'd have lunch together, talk, then play. I would record my side of the room and Jules would record his; we lined the audio files up old-school with a single clap before Jules said the date and time, I would mix them and that was that.
Slowly these pieces built up. Some were really great, some quite shambolic, but there was always something interesting in there. We wanted to get it out there somehow – we just weren't sure what that form would be.
Early in 2021 I tweeted to Mario Klingemann who was experimenting with a super-early version of hic and asked him if there was any way to mint a collection of songs rather than just one at a time. He said I could upload a ZIP but it would just appear like a broken icon so it would probably be better just to upload a batch of mp3s. That was exactly what I didn't want to do. Then the ever-awesome Mr Doob released Jumpy Dot, a functioning game inside an SVG, and the lightbulb went on in my head - I realised I could hack a single SVG file to be the 20-track player I wanted it to be! We released Fragments from The Cross, Vol. 1 just a day or two before it became possible to do HTML-based NFTs on hic, but in a way that was the defining of our earliest exposure on Twitter as @1x1_NFT. There was a bit of "how is that even possible?" and people responded so well to it. It was such a buzz. Jules and I were delighted, amazed, and just warmed to the core that people actually liked the music above and beyond the interface.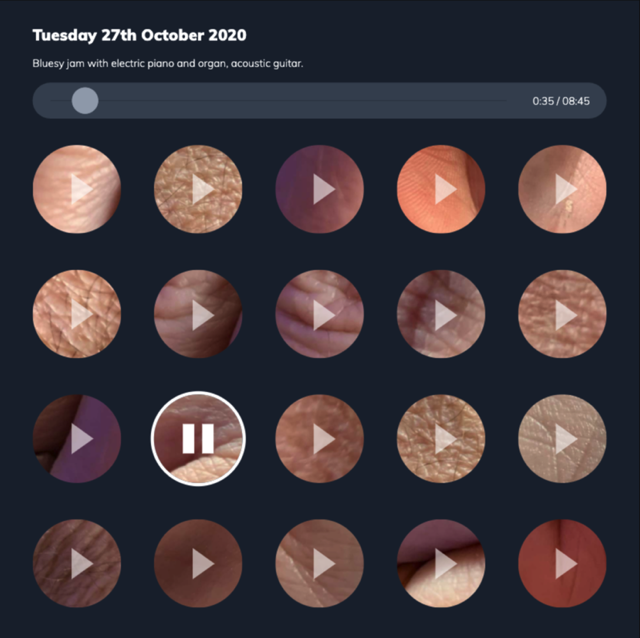 Creating Volume 2 for release two weeks later presented some big problems. With a 40MB hard limit on hic, there was simply no way to get the 250MB of audio assets we needed all on the blockchain to go with the player. I had to work with the guys at hic to persuade them to open up some channels to external IPFS servers, then figure out that Cloudflare was breaking our media files, get that resolved... it was pretty relentless. We made the decision on the day it was supposed to be released to hold it back and in the end I think that was the making of it. People realised we just weren't pushing work out - we really wanted the details to be right.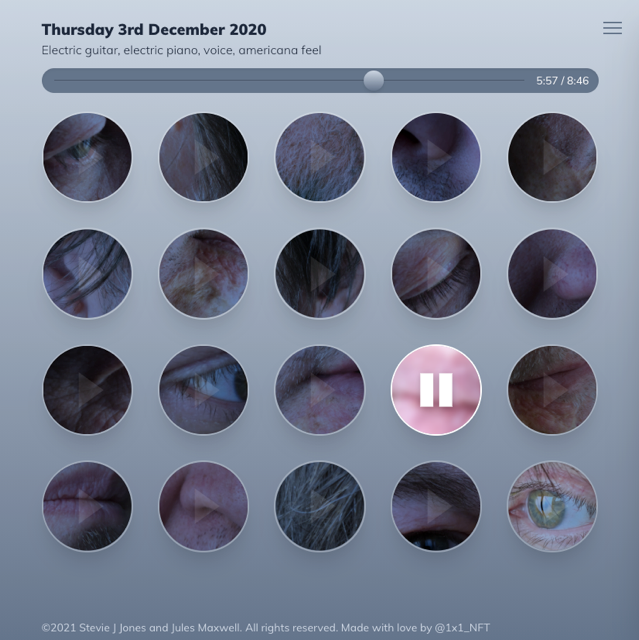 What's cool is that even during these tough days, Jules and I would still do our daily improvisation. Eventually the later ones which coincide with the Hic et Nunc events will be heard on later volumes.
The period over which we've recorded them is an interesting and difficult time in our world history: COVID really taking hold, Brexit, the US elections and all the craziness that went with that. For a period of ten days, covering a lot of the material in Volume 3, I had to self- isolate as my son got COVID, so we had to find new ways to play remotely. Jules made up rules and sent them each day. Those tracks are fascinating, and we even got my dear friend and mind-blowing guitarist Leo Abrahams to play on a few of those remote ones. We're excited about the release of Volume 3 as it's our most ambitious yet and as before we want to reward our loyal collectors for sticking with us. Very few of our pieces end up back on the secondary market and we're taking this as a good sign. We're not really interested in that, instead preferring to build premium work that you just want to keep.
Q: Which NFT platforms are you using? Both as an artist and as a collector or passerby.
A: Only Hic et Nunc at the moment for two reasons: it's really the only one that enables me to build the stuff I want to do, and I am passionate about the environmental considerations around NFTs so will only consider Proof of Stake blockchains - Tezos for now. Hic still feels like a website in early beta, but the commitment of the dev team and passion of the user base is massive and I believe it's going to be a force to be reckoned with in time.
Q: What would you like to see in the platforms you use in the future? Would you be interested in having some kind of support towards, e.g., promotion, artists discovery, the possibility of working with curators, functionalities to make collaboration and debate easier? Etc.
A: I am developing a partner service to hic to try and shape things in a more curated way. It started as just a shortlink service but is growing into something much bigger, while still totally aligned with hic. The sheer volume and huge weight of assets on the main site is a problem right now, so I want to give users a chance to curate their own smaller collections and control their worlds a bit more. I'm sure those features will come. I just like making stuff I guess, and solving problems for myself. Sometimes they end up solving things for others too, and that's always a good vibe.
Ultimately I would like to see bigger artists coming over to less environmentally harmful platforms. I just can't understand why that isn't more of an issue. I'm certainly not a hater on ETH or anything like that, and don't judge any artist for their choices. It's just not for me.
Q: Any thoughts regarding the underlying decentralized nature of Hic Et Nunc and other NFT marketplaces? How does it impact local communities?
A: It feels like it has empowered some people that would otherwise struggle to find a voice. I've been particularly delighted to see so much energy coming from artists in Brazil - they are a very important force on hic and I've enjoyed getting to know a few, collecting their work and having various conversations on Twitter. By it's very nature, decentralisation leads to a strange kind of democratisation... there is not that top-down power that drives certain behaviours on a platform like hic.
Q: Any other artist whose work you'd like to recommend?
A: Where do I start? I've been hugely influenced by @MAKIO135 and am in fact starting a collaboration with him and Leo Abrahams (my favourite guitarist) soon. @yakudoo is another phenomenal talent (another collab coming this summer), and I've been on the hic road alongside talented Scotsman @MrGingeyyy - he has developed some absolutely stunning pieces and it's been great watching him gaining so many fans on the platform.
Q: Any closing thoughts?
I've had the most amazing, life-changing journey within this community and I cannot possibly express my gratitude. To open up a tiny bit, things were just getting extremely difficult in February and March this year, with the wheels seeming to come off almost every aspect of my life. The release of Fragments 1 was the beginning of something new, and I haven't felt as excited about the internet or creative output for as long as I can remember. So to everyone at hic I just want to say a massive thank you for the amazing welcome you gave me and Jules. It is wonderful to be on the road with you.
Q: Once again, thank you very much!!
A: Thank you, Marcelo - it's been a pleasure!